<![if !vml]>
<![endif]>
2006 Water Skeeter Pontoon Boats Now In Stock!
TNT Outdoors is now East Tennessee's Water Skeeter dealer. These portable rafts are perfect for big rivers in our area. We've tested these models on South Holston, Watauga, Nolichucky, New River, and the James River, and they are our favorite big water fishing boats. More portable than kayaks, canoes, and Jon boats, stable in whitewater, and very easy to maneuver. Gets you into all those great fishing spots no one else can! Stop by and check our deals before you buy anywhere else! We offer free instruction on a 1-day float, and carry all the accessories you need to outfit your pontoon craft !
The Water Skeeter River Guide is the ultimate pontoon raft. 10-foot double-bladder 1200 denier PVC whitewater pontoons and lots of room for fishing tackle and camping gear. Elliptical aluminum frame, removable casting platform, brass oarlocks, PVC coated cooler/ tackle bags, 7-foot oars, padded swivel seat w/ sliding frame and mesh storage compartment on the back. The perfect weekend paddle craft!
Water Skeeter River Tamer III Super Deluxe
Super deluxe 9-foot fishing boat. Double-bladder 1200 denier PVC pontoons, rod holder, brass oar locks, molded lure & drink holder, sliding fish creel, padded swivel seat, anchor mount.
Water Skeeter River Runner Deluxe Pontoon Boat

<![if !vml]>
<![endif]>
Full feature 8 1/2 foot pontoon which can handle Class II-III whitewater. 1200 denier PVC pontoon, aluminum frame, padded swivel seat, anchor mount system, rod holder, bronze oarlocks, and much more. This is our favorite boat for the price!
River Light- NEW!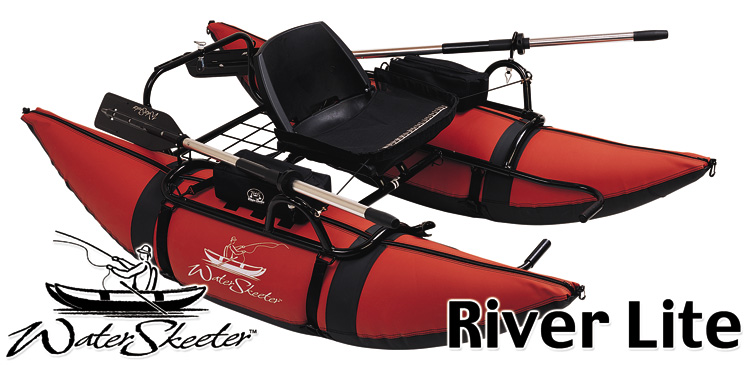 7 1/2 foot, 600 denier PVC river-style pontoons, aluminum frame, cargo deck, rod holder, and much more. This boat is small but very manuverable, rides high thru just about anything.
All boats in stock include:
| | |
| --- | --- |
| | 4-piece aluminum/ steel powder-coated breakdown frames |
| | High quality PVC pontoons with stitched and welded seams |
| | anchor bars w/ anchor mount pulley |
| | dual nylon detachable storage bags |
| | 2-piece aluminum oars w/ 2-piece oar stops |
| | Powder-coated steel rear storage compartment |
| | Adjustable spin/fly rod holder |
| | Tray-style fishing apron |
| | Folding 3-position seat |
| | Nylon webbing cinch straps for easy attachment of pontoons to frame |
| | Repair kit with color-matched pontoon and bladder patches |
| | Valve adapter |
| | 10-YEAR MANUFACTURER'S WARRANTY |
We also carry Xtrasport paddling life jackets, dry bags, and all the Water Skeeter accessories you'll need. Stop by and check our monthly schedule of float trips.

TNT OUTDOORS

"Hometown Sporting Goods"

Copyright (c) 2007 TNT Outdoors

2010 Highway 67 West
Mountain City, TN  37683
(423) 727-4181
CONTACT US